The 2023 FIBA Hoops World Cup: Can this USA squad win gold?

The Philippines, Japan, and Indonesia will combine to host the 2023 FIBA Basketball World Cup from August 25-September 10 th . The tournament, formerly known as the FIBA Basketball World Championships, is made up teams from 32 nations. Each is vying to be crowned true World Champions.

Some teams will also be looking to punch a ticket to the 2024 Olympic Games in Paris.

It's safe to say that more than bragging rights are at stake.

USA Basketball recently announced its Men's hoops roster for the 2023 FIBA Basketball World Cup.
Here is the roster that USA Basketball Men's National Team managing director Grant Hill has assembled: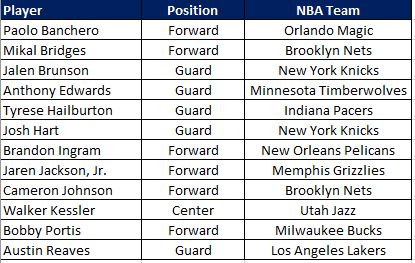 There are a couple of things that stand out about Hill's roster at first glance. The names on this young roster don't necessarily scare anyone. Bobby Portis and Josh Hart are the elder statesmen with both 28 years old. There is only one true center on USA's roster – second year big-man Walker Kessler. I can't help but think to myself – is this roster enough to bring home the gold?
However, this edition of USA Basketball is a talented and versatile group. Most players on this squadcan play and guard multiple positions. Reaves, Hart, and Portis provide plenty of grit. Brunson and Haliburton are great options to have as primary ball handlers. Edwards, Ingram, and Banchero can create off the dribble. You can also give them the ball in crunch-time. They aren't afraid of the bright lights, especially Edwards.
You need to be able to defend and shoot well from the outside in international play. Team USA is full of able shooters and effective team defenders. Other than Kessler, everyone on the roster can shoot well from the outside. Bridges is an NBA All-Defensive Team member and Jackson, Jr. is the league's reigning Defensive Player or the Year. The roster fits the style of play its head coach wants to run with.
Golden State Warriors Head Coach Steve Kerr takes over for Gregg Popovich in the head role. Joining him as assistants will be Miami Heat Head Coach Erik Spoelstra, Los Angeles Clippers Head Coach Tyrone Lue, and Gonzaga Bulldogs Head Coach Mark Few. That's a pretty good staff coacing a young, but talented group. The question remains…
Can USA Basketball bring back the gold and win the FIBA 2023 World Cup?
Team USA is among, if not THE favorites to win the tournament. USA Basketball is currently ranked #2 in the world. Only Spain is ahead of them in the current FIBA world rankings. There will be no shortage of challengers for the United States later this summer. There are several national teams with notable NBA players on their rosters expected to play in the tournament including…
France (ranked #3) – Nicolas Batum, Rudy Gobert, Evan Fournier Australia (ranked #4) – Josh Giddey, Patty Mills, Joe Ingles, Jock Landale Slovenia (ranked #5) – Luka Doncic, Goran Dragic Canada (ranked #6) – Shai Gilgeous-Alexander, Jamal Murray, RJ Barrett Germany (ranked #7) – Moritz Wagner, Franz Wagner, Dennis Schroeder Serbia (ranked #8) – Nikola Jokic, Vasilije Micic, Bogdan Bogdanovic Lithuania (ranked #15) – Jonas Valanciunas, Domantas Sabonis
Additionally, Giannis Antetokounmpo of the Milwaukee Bucks is questionable to play for Greece due to a recent knee scope. If the "Greek Freak" can go and "The Joker" remains committed to play for Serbia, the FIBA World Cup will feature three of the world's best players in Antetokounmpo, Doncic, and the reigning NBA Finals MVP and recent NBA Champion Nikola Jokic. Kristaps Porzingis of Boston Celtics will be playing for Latvia. Jordan Clarkson of the Utah Jazz will suit up for the Philippines. Chicago Bulls center Nikola Vucevic plans to be wearing the jersey of Montenegro. Lastly, Lithuania will feature talented big men in Sacramento Kings All-Star Domantas Sabonis and Pelicans center Jonas Valanciunas.
The FIBA 2023 World Basketball Cup will have plenty of individual talent, but who will change the U.S. squad for the gold medal? Spain is always a threat, and their team continuity is second to none. A French roster gave Team USA fits in Tokyo. Australia has a great mix of young and veteran talent that is hungry to medal. No one in the NBA could guard Nikola Jokic this past season. Do you think the world's opponents will fare any better? Those are the usual suspects as far as the world's contenders go.
There are a couple of dark horses to keep an eye in Asia. These teams should not only push USA Basketball but could compete for a medal as well. Germany made some noise in last year's EuroBasket.
Dennis Schroeder seems to raise his game on the international stage and the Wagner brothers give opponents fits. Lithuania could give the US problems on the block and on the boards. Sabonis and Valanciunas provide matchup problems for any opponent.
Canada is the biggest threat that not enough people are talking about. Their entire roster is made up of talented NBA players. Canada's top three of Shai Gilgeous Alexander, Jamal Murray, and RJ Barrett are as talented as anyone on USA Basketball's roster. Kelly Olynyk and Dwight Powell are more than capable big men. Dillon Brooks, Lu Dort, Nickeil Alexander-Walker, and Benedict Mathurin could be coming off the bench! If Canada Head Coach Nick Nurse elects to add the NCAA's reigning National Player of the Year in Purdue's Zach Edey it will even further deepen their roster. On paper, Canada's roster could give USA Basketball a run for its money.
The keys to USA Basketball's success in this tournament aren't complicated. They need to take advantage of their youth and push the tempo. The U.S. squad need to shoot well from the outside and take care of the basketball. This team needs to be in synch on the defensive end, especially with their switching. These are all characteristics of Steve Kerr-coached teams. If they do those things well, they will overcome the one perceived weakness they have on paper – rebounding. Because of that you can expect Team USA's style of play to resemble that of the Golden State Warriors at times.
Additionally, this young U.S. squad will need to adjust to the nuances of the international game. The FIBA rules call for a more technical and physical game. These young guys will need to adjust to both a new basketball, but more importantly adjust quickly to not getting the same calls from the FIBA refs as they would in the NBA. Look to see how Kerr's teams responds to this early on in the tournament.
There is not another team in this tournament, with perhaps the exception of Canada, that has the amount of talent on their roster from top to bottom as USA Basketball. While the US roster isn't intimidating on paper, neither is anyone else's. Teams on the international level cannot win a FIBA tournament with just one player (ask Dirk Nowitzki). They can win a single game though and that's what the U.S. needs to plan against. Spain, France, Australia, and Canada among others will push this U.S. team. It will be a difficult tournament for any team to win.
Ultimately, I do believe USA Basketball should and will the 2023 FIBA Basketball World Cup. I'm just not ready to put large sums of money on the red, white, and blue just yet.
Photo Credit: DepositPhotos