New Book for Aspiring Entrepreneurs, "Own Your Expertise" by Alina Vincent, Offers Roadmap to Success
New Book for Aspiring Entrepreneurs, "Own Your Expertise" by Alina Vincent, Offers Roadmap to Success in Today's Competitive Business Landscape
FOR IMMEDIATE RELEASE
RENO, NV, August 13, 2023 (
USANews.com
) – Alina Vincent, renowned business strategist and bestselling author, has joined forces with 12 successful business owners to release a new game-changing business book, titled "Own Your Expertise." This book aims to guide aspiring entrepreneurs in creating successful businesses by leveraging their unique expertise in today's dynamic and fiercely competitive entrepreneurial landscape.
Vincent explains the essence of "Own Your Expertise" by saying,
"This book is a roadmap for entrepreneurs who want to turn their knowledge and expertise into a profitable business. It's about unlocking your potential, and finding the perfect intersection between your passion, expertise, and market demand."
"Discovering and owning your expertise is the foundation for creating a business aligned with your passions and values, so you can achieve personal and financial success,"
she said.
"Owning your expertise starts by recognizing and claiming skills and knowledge you already possess, identifying what sets you apart from everyone else, and then leveraging it to build a business that will help others,"
she said.
In today's fast-paced and ever-evolving business landscape, owning one's expertise is vital for success.
By taking ownership of their expertise, entrepreneurs will experience:
• Improved brand recognition and awareness
• More opportunities to collaborate with other experts in their field
• More effective marketing messaging to attract ideal clients or customers
• Influence and authority in their field, which in turn greatly increases their visibility and reach
• More referral opportunities
• Opportunities to share knowledge through speaking engagements, webinars, or writing articles or books
• Increased confidence in networking and public speaking situations
• Supercharged client attraction
What sets "Own Your Expertise" apart is the inspiring stories and practical tips shared by successful entrepreneurs who have implemented the strategies outlined in the book. These transformational journeys provide real-life examples of how individuals from diverse backgrounds turned their passion and knowledge into thriving businesses, demonstrating that anyone with the right mindset, strategies, and execution can forge their own path to success.
Vincent concludes,
"I compiled "Own Your Expertise" to empower new entrepreneurs to take control of their destiny and build businesses that thrive. I believe that everyone has unique knowledge and expertise that can make a positive impact in the world."
"Own Your Expertise" is the fourth installment in the Expertise-Based Business Series by Alina Vincent, following the success of her previous books: "Teach Your Expertise," "Leverage Your Expertise," and "Monetize Your Expertise." Each book in the series offers valuable guidance and insights for entrepreneurs at every stage of their journey.
Co-authored by a talented group of industry experts, including Florence Callender, Tricia Conyers, Nedra Wendel, Ian Foster, Jennifer Yagos, Blanche Boyce, Jennifer Seidelman, Stephanie Newman, Barbara Lawson, Linda S DeNike, Aparna Vemuri, and Martie Weatherly, "Own Your Expertise" brings together practical step-by-step solutions and inspirational stories to pave the way to entrepreneurial success.
"Own Your Expertise: 13 Entrepreneurs Share Inspiring Stories About Success and Lessons Learned in Their Business" is now available for purchase. To order your copy and embark on a transformative journey toward business success, visit
OwnYourExpertiseBook.com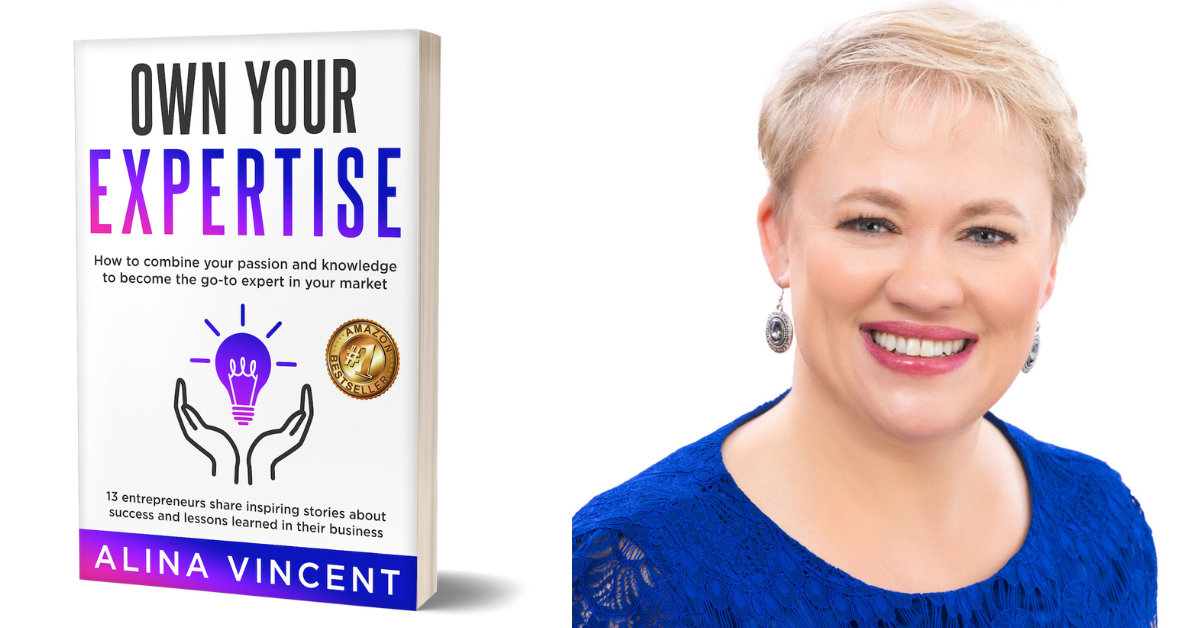 About Alina Vincent

Alina Vincent is a business strategist, speaker, and international bestselling author of "
Teach Your Expertise
", "
Leverage Your Expertise
" and "
Monetize Your Expertise
" books. She's known globally as the creator of the Profitable Online Challenges Formula, which helped her grow her business from zero to over a million dollars in just four years.
Alina is passionate about helping entrepreneurs package and monetize their knowledge and expertise to create a leveraged and scalable business. Experts hire her for strategic advice and a simple step-by-step approach to creating successful online programs, engaged Facebook communities, and profitable 5-day challenges.
Contact:
Alina Vincent
[email protected]
775-544-3927
###